On the surface, Ukraine doesn't look much like a country with a world-beating currency. An international bailout has been 
frozen
 for more than a year, its finance minister was fired last week and a Kremlin-backed war continues to simmer in its eastern climes.
But almost halfway through 2018, the hryvnia is the No. 1 performer against the dollar, despite other developing nations succumbing to a rout. For Oleg Churiy, Ukraine's deputy central bank governor in charge of foreign-exchange policy, the key lies in avoiding a reliance on short-term capital flows to finance current-account deficits.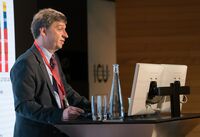 "That's quite dangerous because if you have negative sentiment, investors just leave the market and that puts enormous pressure on monetary policy and the exchange rate," Churiy said in a June 8 interview in Bloomberg's London office. "But that's not the case for Ukraine."
Despite being named among the five most-vulnerable emerging markets, the former Soviet republic has so far defied the naysayers as asset prices in places like Turkey and Argentina tumble. The country isn't without problems: foreign reserves are relatively low, corruption remains rife and government debt is high. But, while delayed, the $17.5 billion rescue program from the International Monetary Fund has helped keep state finances in check.
Ukraine has seen about $550 million of "hot capital" arrive since last fall, of which about $200 million fled when market strife began to grip other developing countries, according to Churiy. "It's a completely different story compared with other emerging markets," he said.
Capital restrictions that largely date back to the aftermath of Ukraine's last revolution in 2014 are partly responsible for the muted inflows of speculative cash. The Finance Ministry is speaking to global depositories to ease barriers to local debt markets and broaden its funding base.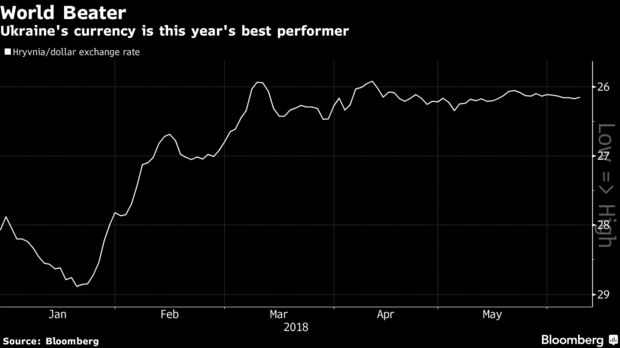 Doing so "will make things more volatile, no doubt," Churiy said. "But we definitely need foreign investors."
The hryvnia has gained 7.5 percent against the dollar this year, beating Georgia's lari and Colombia's peso for the top spot globally. Unlike the gaping current-account shortfalls seen elsewhere, Ukraine posted a surplus in April. The central bank's benchmark interest rate is 17 percent, lifted over inflation concerns, before the emerging-market turbulence began.
Rate Outlook
With inflation still about double the bank's target, there's not much chance of that rate being lowered any time soon.
"We don't think we we'll be able to ease monetary policy until we see a strong disinflation tendency," Churiy said. "Tight monetary policy will allow us to bring inflation back to the target in the middle of next year, not earlier."
The bank has also cited the holdups in IMF aid among reasons to keep rates high. Wrangling over an anti-corruption court and gas prices have delayed loan payments from the fund by more than a year
"Only if foreign investors are willing to keep sending money into Ukraine can the exchange-rate hold," said Lutz Roehmeyer, Chief Investment Officer at Capitulum Asset Management in Berlin, who holds the nation's local-currency debt. "Ukraine has to keep the reform momentum alive, stick to IMF medicine and present a plan to roll over sovereign debt."
The IMF program is key to help boost cash coffers. Foreign reserves are set to total $21.6 billion by year-end, short of an earlier plan to reach $28 billion.
"We aren't satisfied — that's one of the reasons we're relatively cautious about removing" capital restrictions, Churiy said. "For financial stability, the level of reserves is crucial and it's not at the desired level."
— With assistance by Daryna Krasnolutska, and Marton Eder
(Updates with IMF program in 11th paragraph, investor comment in 12th.)