By Brigitte Audet-Martin
One tell-tale sign that your company has "made it" in another country is that your product becomes so popular it gets a nickname. That's what happened to Saskatchewan's Schulte Industries Ltd. in Ukraine, where their rotary cutter is known as "the Barber of the fields."

(Photo courtesy of Schulte Industries Ltd.)
Based in Englefeld, Sask., a small village about 145 km east of Saskatoon, Schulte Industries grew from a small blacksmith shop in 1912, to a globally-known manufacturer of agriculture machinery and other equipment. Schulte now sells machinery throughout North America, Europe, Australia, Africa, Asia and other markets.
In 2001, Schulte Industries became one of the first companies to sell rotary cutters in Ukraine. The Schulte rotary cutter came to be known by Ukrainian farmers as "perukar laniv," or "the barber of the fields," because of its efficiency, says Barry Steiestol, the company's director of international operations.
"They call it 'the Barber' because it mulches  crop residue like corn stalks, sunflower stalks and wheat stubble down so well—like a barber trims your hair," Steiestol says.
Before Schulte came along, most Ukrainian farmers were simply plowing their fields to the ground. The Schulte rotary cutter goes beyond that by doing ground residue management as it mulches the fields, for example on corn stalk and sunflower stalk, says Hal Carnago, sales and marketing manager for Schulte.
"Our rotary cutter mulches crop residue into smaller pieces, allowing the microbes to work at it so the material breaks down quicker. It's not so much about saving time, but it's about having an easier field to seed into the next year—you're not seeding into large stalk of corn or sunflower that can clog up the seeder or planter," Carnago explains, adding Schulte's Fixed Knife rotary cutter helps accelerate the decomposing of crop residue, a process which would otherwise take several years. "Our machine shreds the material standing in the field, the stalks left after harvest. This will aid in getting nutrients left in the field to the soil faster after tillage is complete."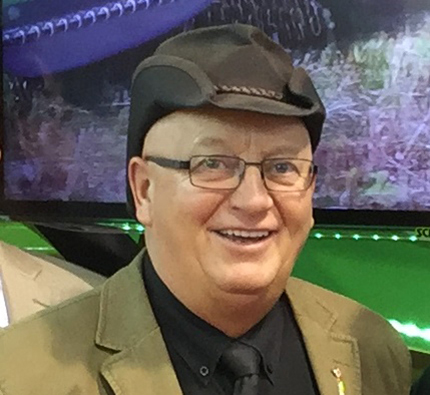 Barry Steiestol
(Photo courtesy of Schulte Industries Ltd.)
"It decomposes faster. The mulching puts nutrients back in the soil," adds Steiestol. "You have to understand farming: they plow it and mulch it down, but without the rotary cutter it could take many years to completely decompose the larger stalks of material."
Trade events are a key part of the company's business development initiatives, says Steiestol, who regularly attends events in Europe and other markets. He attended AGRICTECHNICA, a large agricultural machinery exhibit in Hanover, Germany November 12-18, 2017.
"They have participants from 144 countries. It's a great place to get in touch with potential buyers from around the world," he says.
As is the case with many trade events, representatives from the Canadian Trade Commissioner Service (TCS) were at AGRITECHNICA to provide on-the-ground assistance to Canadian participants. The TCS co-hosted a networking reception with the provinces of Ontario, Manitoba and Saskatchewan at the Canada Pavilion.
Carnago says Schulte has sought assistance from the TCS in the past, and now checks in periodically with the regional office in Calgary. Attending trade events for international business development is important for business not only in other markets, but in Canada as well, Carnago says.
Schulte began exporting to the U.S. in 1966, through a representative based in South Dakota. It was a farm show held in Regina in 1984 that helped the company expand into other global markets. A representative from Australia who attended the event met Carnago's father, Jim Carnago, the company's president at the time.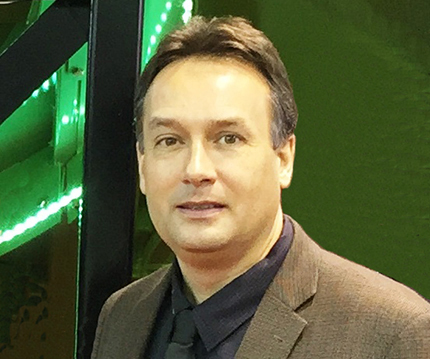 Hal Carnago
(Photo courtesy of Schulte Industries Ltd.)
"He was very intrigued with our delta wing design rotary cutter—he had never seen one before," Carnago says. "He was also very impressed with our rock removal equipment, and thought he could market our products there. He was already representing some tillage lines and thought our products would fit in well. We still have the same company representing us in Australia today."
Schulte designed a new type of rotary cutter in 1987, and came out with a new line of rotary cutters in 1988, after Jim Carnago set out to talk to Saskatchewan farmers and others using such equipment.
"They were using different products and my father, Jim Carnago, went to the local counties in Saskatchewan because we wanted to find out what would make it a better product for them," Carnago says. "The line we created in 1988 includes a 15-foot rotary cutter used to cut the roadway ditches—it was one of the very first delta-wing designs put on market, a unique design with a walking axle suspension system that helps contour the ground better. Business has been flourishing since."
The walking axle suspension system invented by Schulte was a big hit in Saskatchewan and elsewhere, Steiestol says. "We went to the market and the users told us what they wanted—they wanted something very sturdy—and we built what they wanted. This really took them to another level."
The rotary cutters are "by far" the most popular products Schulte sells in Europe, Carnago says, but their rock removers and snowblowers are increasingly gaining popularity there too. He says the company recently had snowblowers "CE certified" for sale in Europe in preparation for exporting to Iceland, and possibly to Austria as well.
CE certification—also known as CE marking—is used to indicate that manufactured goods sold within the European Economic Area (EEA) meet certain health, safety, and environmental protection standards. The letters "CE" are the abbreviation of French phrase "Conformité Européene" which translates to "European Conformity."
Schulte was fortunate to "grow with the regulations" in Europe, which Carnago and Steiestol say, can be burdensome, and expensive.  For example, some of the machines must come equipped with certain guarding to cover moving parts.  In some countries, regulations allow for a maximum amount of weight per tire on vehicles.
Each line—rotary cutters, rock removers and snowblowers—must have special accompanying documentation and manuals in each of the local languages where they are sold. It costs about $15,000 to set up the documentation, per product line, and about $5,000 annually to maintain it, Carnago says.
"I think the guarding on the equipment is fine, we'd want to do that anyway, but the documentation on the products is really expensive," Carnago says. "It's a lot of extra work to do and a lot of extra money to sell to Europe."
Schulte has been in the European market since a German buyer started selling their products there in 1991. By 1995, they had forged new markets in Poland, followed by Sweden in 1997 and France and Norway in 1998. Schulte's rock removal machines—used to pick up rocks so that they do not get into other equipment such as combines—are also selling well in European markets, Carnago adds.
In a typical year, European markets account for about 10 percent of Schulte's global sales, Carnago says. The U.S. makes up about 50 percent, and Australia about nine percent.
In spite of CE marking and other requirements, "Europe has a lot bigger potential for us," Steiestol says. "Seeing as we've been there since the 1990s, we have kind of grown with the regulations so we have been able to do it over time, for us to go there today with a brand-new product to try to sell to Europe, I don't know if we could afford to do it."
One way to get around these "roadblocks," Steiestol says, is that you are allowed to bring one sample of your product to Europe even if it has yet to be CE certified or to meet other regulations. This works well at trade events such as exhibits, conferences and shows, he adds.
"The sample can't stay there, but you can bring it just to show your product. You can use it to sell to the client and at the same time you can see what has to be done to meet the CE requirements."
While there were no tariffs on Schulte's machines prior to the recently-implemented Canada-European Union Comprehensive Economic and Trade Agreement (CETA), Carnago hopes the agreement will further open European markets generally, and make it easier to do business there.
Schulte is still making a name for itself in Europe and will continue to pursue opportunities there and in other global markets, Carnago says.
Meanwhile, the company has clearly made a name for itself at home. About one year ago, Englefeld officially named "John Schulte Drive" after Carnago's grandfather. Schulte joined his father, Caspar Schulte's blacksmith business in 1932, taking over in 1938. In 1942 he began building brush-clearing equipment and in 1947, designed and built a front mount snowblower. In 1963, John Schulte developed and patented the first conveyor type rock-picker—the only one of this type ever built, according to the company's website.
The company changed names a few times, becoming Schulte Industries in 1972. Today they employ about 150 people at the company headquarters in Englefeld, where about 250 people reside (although not all Schulte employees reside in the village). There are about 175 involved in the production and sale of Schulte products, including the representatives based in other countries.